Double-cord Packing Technique
Use the Double-Cord Packing Technique When Taking Impressions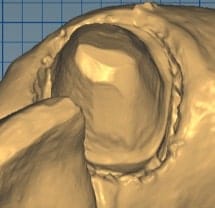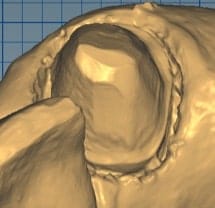 You may have reasons for not using a double-cord packing technique when taking impressions. Here at The Art Of Aesthetics cosmetic dental laboratory, we often receive impressions with a single cord or no cord at all. The double-cord impression technique is not a luxury but a necessity for us to be able to distinguish margins from the gum. In addition, this simple technique will minimize most of the troubles associated with remakes and adjustments. It will benefit everyone involved: the doctor, patient, and laboratory.
Please use the double-cord when taking impressions, whether they are digital or non-digital.
Even digital impressions from intraoral scanners such as 3Shape Trios, Cadent iTero, 3M True Definition, Sirona Connect (Cerec), or Medit, the double-cord technique will help us to define margins more clearly.
Why use the double-cord impressions?
By using double-cord packing, you will save time and trouble for taking another impression or for the necessity for remakes due to the lack of visibility of margins.
When using the double-cord packing technique, you can see more patients instead of re-taking impressions. Therefore, your patient will not have to return to your office to remove the temporary crown or go through the hassle of taking another impression.
Please pack the small cord first, then the large cord on top of it, still under the margins. Please wait for 5-6 minutes before removing them and taking impressions. This is true when taking Trios, iTero, True Definition, Cerec, or other digital impressions.
Please use the double-cord packing technique when taking impressions.
It will help us do our job expertly since there will be absolutely no need for guesswork when identifying margins. It will help to eliminate most remakes with new impressions due to short or open margins. Some may reason that digital impressions (e.g., iTero or Trios) don't have to use the double-cord packing, but as far as the restoration laboratory is concerned, it doesn't make any difference between digital or non-digital impression: double-cord impression technique will help to reduce, if not eliminate, remakes.
We prefer Double-Cord for Digital Impressions
The first phase of any successful restoration case starts with proper impressions, and here at The Art Of Aesthetics, we prefer the double-cord packing technique for digital impressions.
By packing two cords, instead of just one, you are able to take an accurate fixed prosthetic impression.
Here at The Art Of Aesthetics, we operate a cutting-edge implant and cosmetic dental laboratory, serving practices all across the country. While we accept a wide range of digital impressions, we are a proudly certified 3Shape Trios Ready, Cadent Align iTero Partner, Sirona Connect (Cerec inLab), and Midmark 3M True Definition Margin Marking dental laboratory. Meaning, we can show you how to link your scanner up to our lab and instantly transmit impressions and other information important to your restoration case.
We prefer the double-cord impression technique because it provides us a more accurate glance at the entire tooth so that we can create a prosthetic that will fit well. In fact, this method provides a more effective tissue displacement, and when the impressions are more accurate, then the finished product will be more precise.
At The Art Of Aesthetics, we pride ourselves on restoring implants, crowns, bridges, and veneers that look great and fit well — everything your patient is looking for.
Dental practices all over the country rely on our knowledge and expertise because they know that, when they work with The Art Of Aesthetics, they are going to get:
Quick turnaround times
A cutting-edge lab that delivers precision
A team of experienced technicians
Quality materials and finished products
A dedicated technician to manage each case
Competitive pricing
Free shipping for regular clients
The staff at The Art Of Aesthetics is ready to serve, not just as a dental lab, but as a resource on how to provide a higher level of restorative dentistry for your patients. For example, explaining to you why we prefer the double-cord packing technique for our 3Shape Trios Ready dental lab. Connect with our team now and let us take on your next case.